Job Description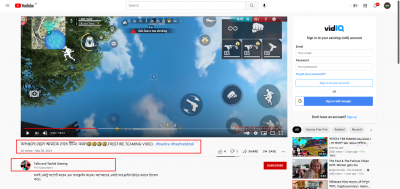 1. Go to youtube.com
2. Search the keyword ---- কতগুলো ছেলে আমাকে দেখে টিমিং করল🤣🤣🤣🤣,FREE FIRE TEAMING VIDEO
3. Open The video that you are looking as thumbnail [See Job Image fast] 5. ONLY Subscribe the channel [If you already Subscribed to the channel, You must Use another YouTube channel to subscribe] 6. Take a Screenshot after complete the task.
How to prove you done it
How to prove you done it
1. your YouTube user name
2. Screenshot after finish the task. ( Don't cheat me I will check everything one by one.)
টাস্ক শেষ করার পর স্ক্রিনশট। (আমাকে ঠকাবেন না আমি এক এক করে সবকিছু চেক করব।)
Job Targeting
WORLDWIDE
(this job is available for workers from all countries)
---